Maria Vittoria Paolillo talks about MVP Wardrobe, between digital and Made in Italy
Industrie Toscanini
We met Maria Vittoria Paolillo and her husband Federico in the splendid MVP Wardrobe showroom in the shadows of Milan's Bosco Verticale, a part of town in which tradition and the future live side by side and where the fashion brand created by Maria Vittoria seems to have found its perfect setting.  MVP Wardrobe is a blend of the best in Italian creative tradition and the innovative ways of presenting and promoting the collections. But, first things first, because, with Maria Vittoria, the best place to start, logically enough, is at the beginning.
From creativity to intuition, the story behind the MVP Wardrobe brand
Q: How did it all begin?
MVP: I started with jewellery. My family's involvement in precious stones goes way back, and after my first experiences at the company and in the store I decided the time had come to create something of my own, so I started designing and producing a line of jewellery products with a youthful flavour. I think I picked up on the desire of people my own age for easy to wear jewellery for everyday use. As I went along – making mistakes made along the way! – I began to develop my own style, which was instantly recognisable because it stood out from the crowd. Having got through the teething stages, during which I learned more about the way the industry works, I found that my sense of initiative had grown and was being recognised, also thank you to the assistance I received from professional specialists, who helped me in shaping and defining my business and communication strategies. While social media helped make my creations visible,  a huge amount of work, both technical and otherwise, went on in the background. On its own, creativity simply isn't enough – you need a whole range of skills, and a lot of careful learning.
Q: From jewellery to fashion, then – was that a natural progression?
MVP: Well, one thing that certainly was natural was to present my creations by wearing and showing them myself, to emphasise the style that I want to express. The design of my jewellery reflects my way of being, my nature. I think people liked this aspect and saw it as authentic. I started to post photographs of my looks, matching them with my jewellery in a kind of visual diary, and this  led to a significant increase in the number of followers on Instagram. Lots of requests started to arrive, especially from girls and women asking who made the clothes, shoes and bags that I was wearing and using, or asking me for advice on clothes and colour combinations. Well, it turned out that my daily chic style had a certain appeal and that gave me the idea of creating an accessible fashion collection inspired by my personality. One thing that was really useful during this process of transforming an intuition into an actual business was the experience built up in the fashion industry by my husband Federico. He was the one who gave me the idea of transforming my followers into potential customers interested in what I had to offer.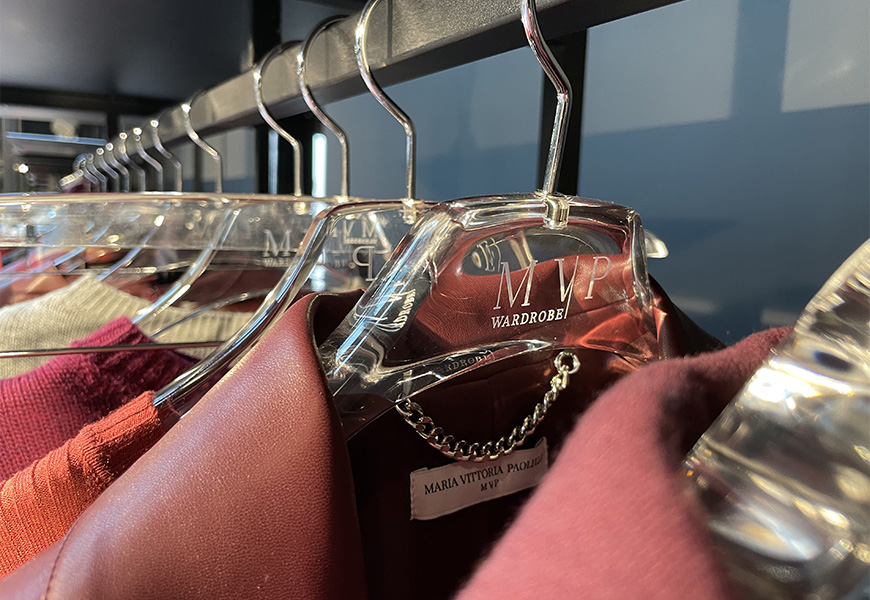 Digital and Made in Italy are the secrets behind the success, with the assistance of the Toscanini plexiglass coat hangers
Q: and then, you  had another intuition which proved to be just right?
MVP: That's correct, yes. There's something a little bit special about my brand that maybe makes it even more interesting for its followers – the monthly look release. Traditionally, the fashion brands organise two major collections to cover the whole year, with a few minor additions in the course of the months. While, on the other hand, we continually  present limited collections based on a number of items, which we launch on a monthly basis. In this way, there's always something new to attract attention and set off the "see now, buy now" mechanism that's a typical feature of digital platforms. An enormous, incessant amount of work goes on in the background, but this approach has proved effective and that makes all the effort worthwhile.
Q: Your brand was 100% digital right from the start. How has that worked out with Covid?
MVP: Covid has had the effect of increasing awareness of our range and has helped us grow. Being stuck at home with more time on their hands, people were looking for inspiring content, and MVP Wardrobe was able to attract their attention through a fresh approach which is constantly renewing, by offering different looks and emotions for different times of the day. We've been able to reach out to a public that's decidedly international, and to satisfy a demand that goes well beyond the borders of Italy. We currently sell our products in Portugal, Spain, Poland, Greece and the USA. We're now looking towards the Russian market, which we're currently studying to identify its distinguishing features in order to ensure the right approach.  But Italy is still the central focus for our ideas because Italy, and everything that comes from it, has the ability to inspire people and fuel their dreams.
Q: So true, the power of attraction exerted by the Made in Italy concept is something that we also experience with our own products. Being able to satisfy the expectations of customers all over the world is a big responsibility, however, and requires lots of commitment.
MVP: Every single detail matters, and it's essential that we assess each aspect and element of our brand with the most careful attention. The image is the dimension in which all this plays out, and that's why we place great emphasis on quality – and not just on the quality of our collections, but also the quality of our presentation, which certainly extends to the coat hangers and props. In the showroom and stores we take care to ensure that the details represent the brand and express the way in which we want to get people involved. And quality products such as yours play a major role in the presentation of our concept. Before we discovered Toscanini, we used coat hangers in fluorescent colours, but those don't even begin to compare with the beauty and light effects of the Toscanini  plexiglass strong coat hangers. They blend in perfectly with the style of the showroom, and their lightness helps to enhance the collection.
Between brand design and wardrobe planning
Q: So what are the next steps for MVP Wardrobe?
MVP: We've got lots of ideas. One project that will definitely be taking place is a single brand store in Rome, my home town, and then we'll be looking at growth in other markets. We certainly aren't short of projects.
Q: If I could finish on a more "personal" note, can you describe the Maria Vittoria's wardrobe?
MVP: It's full to bursting! I think it is only natural for somebody who does what I do to have lots of clothes and accessories. On the one hand, there's the drive to experiment, combine styles and create new looks by selecting things that I like, and on the other there are all the products which I receive from other brands. I'm not obsessed with always having new things, but a build-up is inevitable. That's why I organise an annual mini-sale for my clothes and accessories and free up my wardrobe, while giving the items a second lifetime. I wasn't able to do that this year, because of Covid, but I'll start again as soon as the pandemic is finally over.
At the moment, my wardrobe is organised into two rows, which isn't the ideal system, as the items at the back are difficult to see. During the lockdown, I made a major effort to put everything in order, but it didn't last. It doesn't take long for chaos to re-emerge and be back to square one. To make the most of the space available, I have to use thin coat hangers, even though I realise that these could potentially leave marks on certain types of garment. What I'd really like would be to have more space and be able to use attractive, more solid coat hangers like the ones we have chosen for the showroom and stores. I might just get round to that, very soon…