Toscanini "Manca 'ncó 'n plûch" Competition, portraying our mantra
Industrie Toscanini
Toscanini, a company with a long history, has a wealth of anecdotes and stories that, together with our products, are an authentic and fresh way to celebrate who we are.
Manca 'ncó 'n plûch: striving for the best in the eyes of Toscanini
Among the many expressions that have become part of the Company's DNA, there is one we are particularly fond of and which best embodies us. Our father Ettore coined this, and we've heard it dozens of times … especially when we've had to push ourselves a little harder. When we've seen that doing things well has in a way hiding the promise of excellence … Manca 'ncó 'n plûch… there's still a little something missing. It's a challenge to look beyond the ordinary and to push the envelope. And as we say today, we've got to think "outside the box" and follow that intuition to improve a process or step and create the perfect product.
A Competition Portraying Toscanini's Mantra
The plûch has become a mantra that drives us to do better, not just sit back and relax. We feel it so strongly that we've decided to transform this concept, which is difficult to explain in words, into a sign, a symbol embodying and making it come alive in our business culture.
A few months ago, we launched a competition open to Fine Arts, Architecture, Design, and Graphic Design students. We invited them to portray the "plûch" graphically after having read our vision and mission as well as explored our creative world.
We received about fifty entries that were evaluated by a panel of designers, communication experts, and architects. They chose Leonardo Cesati, a graduate in Product Design in Turin, and Giada Orio, also from IAAD in Turin, for their ability to gracefully and elegantly capture the spirit that pushes us to do better each and every day.
The philosophy inspiring the winners
"Curiosity brings us together, and we're always looking for new challenges and opportunities to put ourselves out there. That's why we were intrigued by the particular challenge posed by the 'Art of Hanging' competition. We always tend to look for that extra something that pushes for quality and attention to the small details, which together convey a distinct and recognizable whole. During the execution of our designs, we aimed to free our minds and fully embrace the philosophy and values of the Toscanini Company. We proceeded by letting our creative flow run spontaneously using expressive gestures, which led to our graphic designs.
In the future, we'd like to continue to give voice to our creativity without ever stopping to learn, while observing and questioning what surrounds us, allowing us to contribute and express our point of view."
Their original design, inspired by the silhouette of the hanger and transforming it into a dynamic stroke, was further refined in a subsequent step. The refinement process, executed in accord with the winner, aimed at improving the applicability throughout a wide range of paper and digital touch-points, allowing the artists to best express their unique message.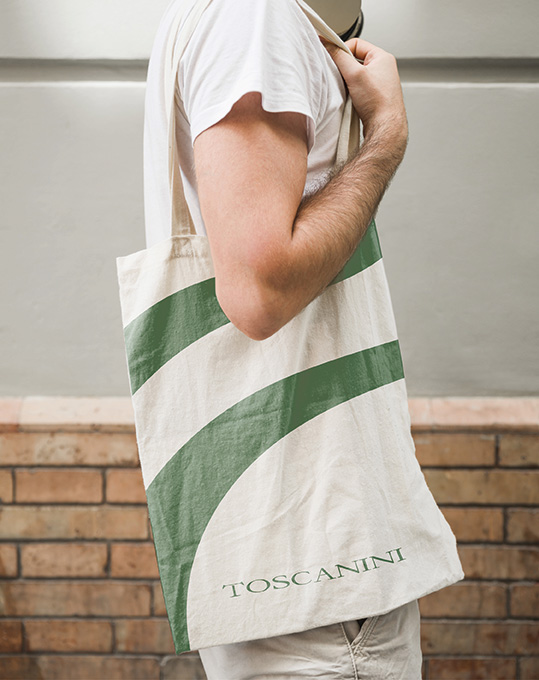 A step into the future for all participants
A special recognition also goes to the projects presented by Irene Macioce, a Communication Design student at IAAD in Bologna, and Giulia Madini, a Product Design student at NABA in Milan. Their interpretations of the concept, different in approach and style, offer an interesting and, at the same time, elegant interpretation of our tendency to constantly improve.
"We heartily congratulate the winners and the two finalists for their creativity and professionalism. They have shown the extraordinary talent that, we are sure, will take them far," says Federica Toscanini, Sales & Marketing Director.