Description
GUIDA ALLE TAGLIE E ORGANIZZAZIONE DEL GUARDAROBA
Description
The featherweight
The (sustainable) lightness of being
Subtle elegance
The exquisite elegance of the lines of the Toscanini SuMisura™ collection in a minimal thickness: just 8 mm against the 22/24 mm of a normal shirtwaist, a third of the overall dimensions. Versatile lines that also perfectly match the Italian classic and Light design collections.
The lightness, the result of the encounter between design and technology, has a featherweight of 73 g of the cut version and 127 g of the rod version against the 243 g of the Marcello Casual model with rod or the Marcello shirt model with rod.
A unique and slender piece, ideal for large wardrobes dedicated to shirts, perfect for hanging tops and petites robes, indispensable on board yachts and private planes where reducing weight is a necessity and not a whim.
Available in 4 versions: with shoulder strap cut, with cut and clips for hanging skirts and trousers, with cut and rod for trousers, with cut and flock for garments that tend to slip.
A small work of ingenuity to which subtraction has given impetus without taking away beauty or substance.
To choose the right size hanger, all you have to do is think about the garments they are to support and who is going to use them: man, woman, child or boy? Yes, because unisex does not exist, except for the entrance wardrobe.
The approximate width is:
MAN cm 42/45
WOMAN cm 38/40
JUNIOR cm 38/40
BABY cm 28
Follow the detail in the table.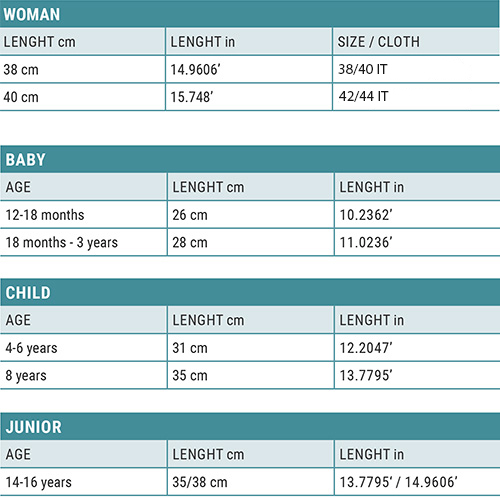 It is important to choose the right hanger to support the different garments in your wardrobe. Our hangers have different shapes and thicknesses depending on their use, as do our accessories:
To keep their shape, the shoulders of jackets, leather jackets and coats need the right support. The hanger must therefore be at least 5/6 cm thick and have a rounded, ergonomic shape;
For men's and women's shirts, a 1.5/2 cm thick hanger is sufficient. It is useful for women's hangers to be fitted with epaulettes for tops or with non-slip velvet for silk shirts or dresses;
For boys and children, a 1.5/2 cm thick hanger is sufficient;
Trousers cannot be without an effective non-slip bar on the hanger;
For skirts, the clips must have a soft rubber part that does not mark the fabric.
I NEVER WITHOUT IT AGAIN
For a well-organised wardrobe it is important to provide
some storage boxes for scarves, scarves, gloves and swimwear that make the change of season quicker;
garment bags made of breathable, washable cotton at every change of season because dust, natural and artificial light can ruin or fade fabrics;
cedar wood shoe lasts to keep shoes dry and tidy;
moth-proof cedar scented scents to replace each season;
a stick with a spike to easily pick up garments hanging overhead;
a closed loop for hanging scarves and foulards and an openable one for necklaces
HOW MANY HANGERS ARE NEEDED?
To know the number of hangers required for a walk-in wardrobe or cupboard, simply apply this simple formula:
For each linear metre of bar you will need
13 hangers for JACKET
26 hangers for SHIRTS
30 hangers for SKIRT/ PANTS

CARE AND CLEANING FOR COLLECTIONS
SuMisura, i Basici, Light Design rovere, i Bambini, Confetti
At each change of season, you can clean your wooden hangers by wiping the surface and hook with a slightly moistened cloth. Flocked bars can be wiped with a soft brush.
Stella Plexiglas
To clean Plexiglas, simply use a damp cotton cloth to remove dust and then dry with a soft, dry cloth. Never use alcohol, which can damage the material.
Cedro
To renew the colour, anti-moth function and forest scent, simply wipe the surfaces with a fine-grit glass paper.
At each change of season, you can clean your wooden hangers by wiping the surface and hook with a slightly moistened cloth. The flocked bars can be wiped with a soft brush.
You might also be interested in